Description
Sea kayak that is only 368 cm long! Very easy to handle on land and at sea. Åfjord is a shortened version of Expedition LV/HV. Expedition Åfjord combines speed, manoeuvrability and stability in a very respectable way. This is a great first-time-purchase for hobby paddlers. This kayak is also excellently suited to fishing and hunting.
This kayak is manufactured in a hightech material of three layer HDPE polyethylene. This type of plastic provides an unique combination of rigidity, weight and durability.
Expedition´s designs are made from modern Swedish form – the widest point of the kayak is in the back of the cockpit. This design makes paddling forward more comfortable and efficient because you can put the paddle more close to your body.
Expedition kayak has a long waterline therefore it is fast and stable. If you are paddling with wind and waves you feel surprised how easily you can handle the conditions with this kayak. Expedition has three dry hatches, two bigger and one smaller. In big dry compartments you can fit in gear for a daily picnic or even for a week´s expedition. The smaller day hatch is used for storing more necessary gear on water (for example: food, drinks, extra jacket, gloves, etc.). The smallest day hatch is made from soft and durable neoprene and it is meant for storing your mobile phone, GPS, sunglasses, etc.
In the back and front of the kayak deck there are rubber lines, which are meant for holding gear: drinking water, spare paddle, sleeping mat, etc.
Expedition has ergonomic handles in the bow and stern to transport the kayak on land. Sitting in the kayak is very comfortable, wide cockpit for easy access, padded seat and adjustable thigh braces. The kayak also includes a new backrest regulation system which allows you to adjust positioning while sitting securely in the vessel. Thigh braces can also be regulated by ten centimeters both ways.
Expedition Åfjord is a kayak with rudder, the rear part of its hull is shaped like a keel. Therefore, the course stability of this kayak is unique even when you don`t use the rudder.
SeaBird Designs Expedition models are designed by Ingvar Ankervik. He is the fourth generation boat builder and designer in his family, and they are one of the oldest kayak builders in the world. As early as the 19th century the family had already reached the absolute elite in Swedish shipbuilding, and Ingvar Ankervik is one of the best kayak designers in the world.
| | |
| --- | --- |
| Material: | 3 layer HDPE  |
| Lenght: | 368 cm |
| Width: | 64 cm |
| High: | 35 cm |
| Cocpit size: | 86×45 cm |
| Volume: | 265 liter |
| Weight: | 22 kg |
| Paddler weight: | 55 – 105 kg |
| Capacity: | 130 kg |
| Front hatch: | Round 25 cm (10´´); Daily 15 cm |
| Rear hatch: | Oval 32.5 cm (13´´);  |
| Extras: | Pedal | Ergonomical seat | Rudder | Rod holder |
| Colors: | Yellow, Red, Green |
| Designer: | Ingvar Ankervik/VKV |
| Developer: | Len Ystmark |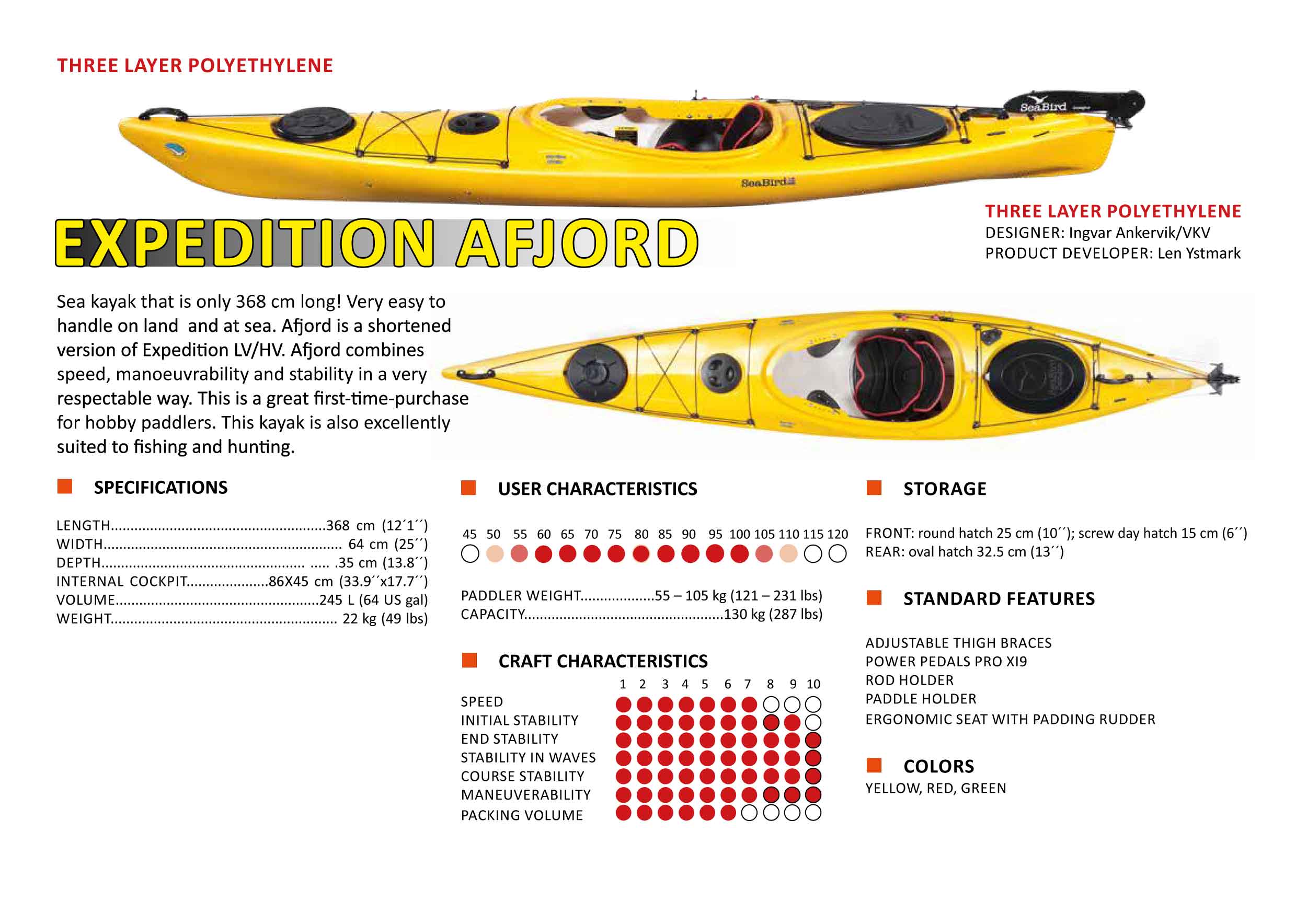 | | |
| --- | --- |
| Lenght | Shorter than 4 meters |
| Width | More than 60 centimeters |
| Manouvering | With rudder |
| Material | Three Layer Polyethylene |
If you would like to purchase the product with installments, add it to the cart and select Cetelem Online Credit at checkout.
Reviews
There are no reviews for this product.