Description
Roteko
A Krakkótól nem messze honos lengyel Roteko cég több mint tíz éve gyűjt tapasztalatokat a rotomod eljárásként ismert polietilén hajók gyártásában. A Roteko abban különleges, hogy saját maga tervezi termékeit és készíti a termékek gyártásához a szerszámokat, formákat, és gépeket. Üzemükben extrudálják, színezik, keverik, granulálják és porítják az alapanyagokat, majd rotációs formázással és fröccsöntéssel állítják elő a késztermékeket. A Roteko törekvése a gyártás szinte minden folyamatának egy kézben tartása, ezzel a cég kitettségének csökkentése, a gyártási költségek optimalizálása, és kiváló ár-érték arányú termékek előállítása. Kajakokat 2010 óta készítenek, mára leginkább erre szakosodtak. A megfelelően magas színvonal elérése érdekében folytonosan dolgoznak a technológia és a géppark fejlesztésén, illetve a dolgozók képzésén. Mindezek hajtóereje a munkájuk iránti elkötelezettségből eredő elégedettség, és a szándék, hogy teljesítsék vásárlóik kívánságait.
Solina kettes kajak
A SOLINA a Roteko egyik legrégebbi, legkiforrottabb páros kajakja. Ajánljuk egynapos kirándulásokra pároknak vagy háromfős családnak, de többnapos túrákra is, nagy mennyiségű felszereléssel. Ideális vonalvezetésével nem kószál erre-arra, jól tartja az egyenes irányt, jól veszi a hullámokat, megnyugtatóan viselkedik, stabil és biztonságos. Magas oldalfala mögött biztonságban érzi magát az ember. A SOLINA hatalmas beülő nyílással rendelkezik, ezért nagyon könnyű a hajóba történő ki-be szállás.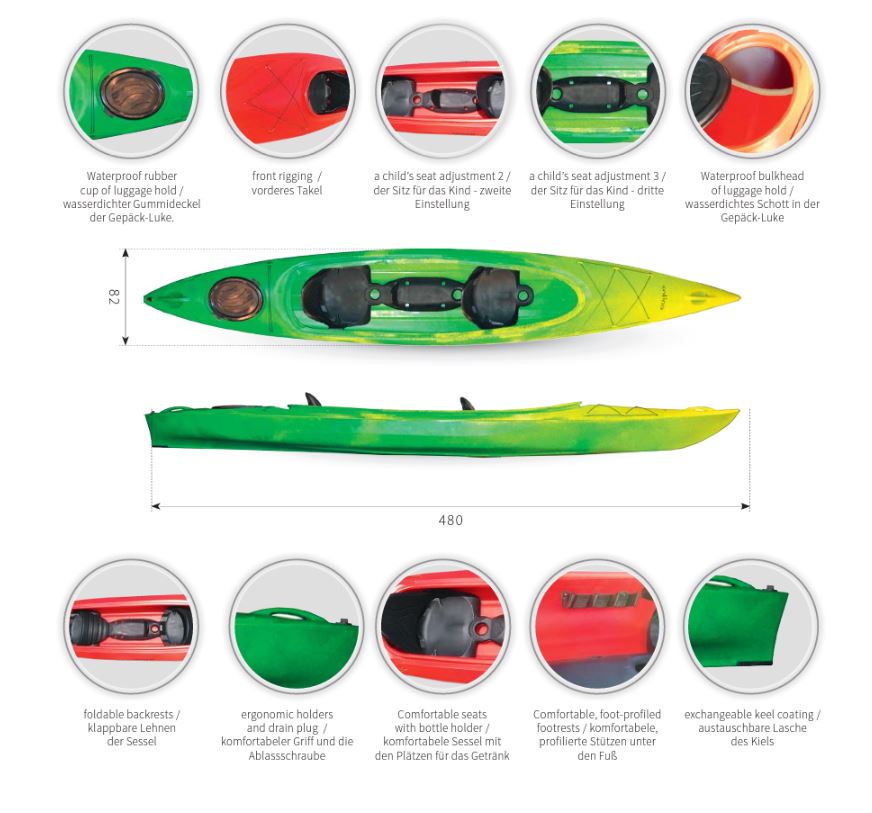 | | |
| --- | --- |
| Lenght | Between 4-5 meters |
| Width | More than 60 centimeters |
| Manouvering | None |
| Material | One Layer Polyethylene |
If you would like to purchase the product with installments, add it to the cart and select Cetelem Online Credit at checkout.
Reviews
There are no reviews for this product.