Description
Roteko
A Krakkótól nem messze honos lengyel Roteko cég több mint tíz éve gyűjt tapasztalatokat a rotomod eljárásként ismert polietilén hajók gyártásában. A Roteko abban különleges, hogy saját maga tervezi termékeit és készíti a termékek gyártásához a szerszámokat, formákat, és gépeket. Üzemükben extrudálják, színezik, keverik, granulálják és porítják az alapanyagokat, majd rotációs formázással és fröccsöntéssel állítják elő a késztermékeket. A Roteko törekvése a gyártás szinte minden folyamatának egy kézben tartása, ezzel a cég kitettségének csökkentése, a gyártási költségek optimalizálása, és kiváló ár-érték arányú termékek előállítása. Kajakokat 2010 óta készítenek, mára leginkább erre szakosodtak. A megfelelően magas színvonal elérése érdekében folytonosan dolgoznak a technológia és a géppark fejlesztésén, illetve a dolgozók képzésén. Mindezek hajtóereje a munkájuk iránti elkötelezettségből eredő elégedettség, és a szándék, hogy teljesítsék vásárlóik kívánságait.
Rafa
A Rafa Roteko cég belépő szintű kétszemélyes hajója. 400 cm hosszával a rövidebb páros kajakok családjába tartozik. Egy nagy beülője van, ahol a Rotekotol megszokott két nagyon stabil lehajtható háttámlás ülése található. A hajó rövid, így alkalmas zegzugos terepen evezésre. Olyanoknak ajánljuk akik megelégszenek a belépő szintű hajóval. A Rafa-t a gyártó tárolórekesz, és csomagrögzítő gumikötél nélkül szállítja. A gumikötélel történő felszerelés opcionális, a Kajak.hu üzletében rendelhető meg.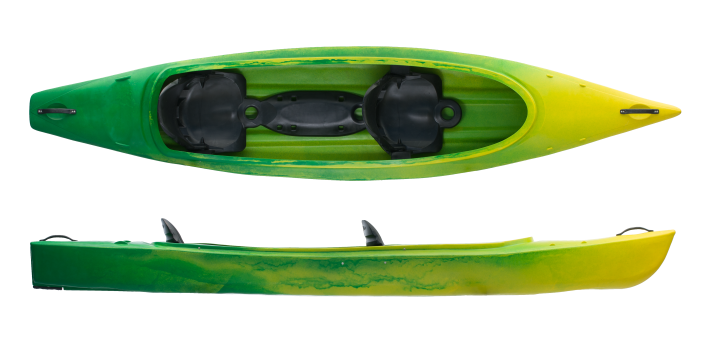 | | |
| --- | --- |
| Kategória | Túrakajak |
| Hosszúság, Szélesség, Magasság | 400, 87, 39 (cm) |
| Anyag | HDPE magas sűrűségű polietilén |
| Súly | 34 kg |
| Kapacitás | 250 kg |
| Alapfelszereltség | lábtámaszok, ülések, lehajtható merev háttámlák, kapaszkopók, gerincvédő |
| Ajánlott kiegészítők | evező, mentőmellény, kiskocsi |
| | |
| --- | --- |
| Lenght | Between 4-5 meters |
| Width | More than 60 centimeters |
| Manouvering | None |
| Material | One Layer Polyethylene |
If you would like to purchase the product with installments, add it to the cart and select Cetelem Online Credit at checkout.
Reviews
There are no reviews for this product.