Description
The Expedition HV is a spacious, comfortable, and elegant sea kayak. With its 518 centimeters, it is the second longest in its family and the most suitable for kayakers weighing between 80 and 105 kilograms. It is made from high-quality three-layered (HDPE) polyethylene, which uniquely combines stiffness, lightness, and durability. The SeaBird Designs Expedition excellently combines speed, stability, capacity, lightness, and good design. Few kayaks can match its versatility. Its elegant lines are its first standout feature. It follows modern Swedish design, with its widest point at the rear of the cockpit. This makes it comfortable and efficient for paddling, with the paddle closer to the body.
The Expedition's waterline is long, making it fast and stable. It handles wind and large waves with surprising ease. It has four compartments, two larger and two smaller. The larger ones can hold not just the supplies for a day trip, but also the equipment for a one-week expedition. The smaller compartment can hold frequently needed items while on the water (such as food and drinks, jackets, gloves, etc.). The smallest compartment, made of soft and durable neoprene, is suitable for items like mobile phones, GPS, and sunglasses. Bungee cords at the front and back of the kayak hold water bottles, spare paddles, waist belts, and other items.
Ergonomic handles at both ends of the kayak make it easy to move on land. Sitting in the kayak is very comfortable, with its wide cockpit making it easy to get in and out. The seat is cushioned and the footrests are adjustable. Its unique backrest adjustment feature allows for adjustments while sitting in the kayak. The footrests can also be adjusted up to ten centimeters in either direction. The SeaBird Designs Expedition family of kayaks is among the best sea kayaks available, giving a unique feeling of stability and safety. The designer of the Expedition models, Ingvar Ankervik, is a fourth-generation shipbuilder and designer in his family, who are among the world's oldest kayak builders. They rose to the absolute elite of Swedish shipbuilding in the 19th century, and Ingvar Ankervik is one of the world's best kayak designers.
Material:

3-Layer HDPE

Lenght:

518 cm

Width:

59 cm

Heigh:

38 cm

Cockpit size:

85×41 cm

Volume:

345 liter

Weight:

27 kg

Paddler weight:

80 – 105 kg

Capacity:

150 kg

Front hatches:

Round hatch 25 cm; Daily hatch 15 cm

Rear hatches:

Oval hatch 32.5 cm; Round hatch 15 cm

Equipment:

Adjustable footrest |  PRO XI9 | Rod holder | Paddle holder | Ergonomical seat | Steering

Colors:

Yellow, Red, Lime green

Designer:

 

Ingvar Ankervik/VKV

Developer:

Len Ystmark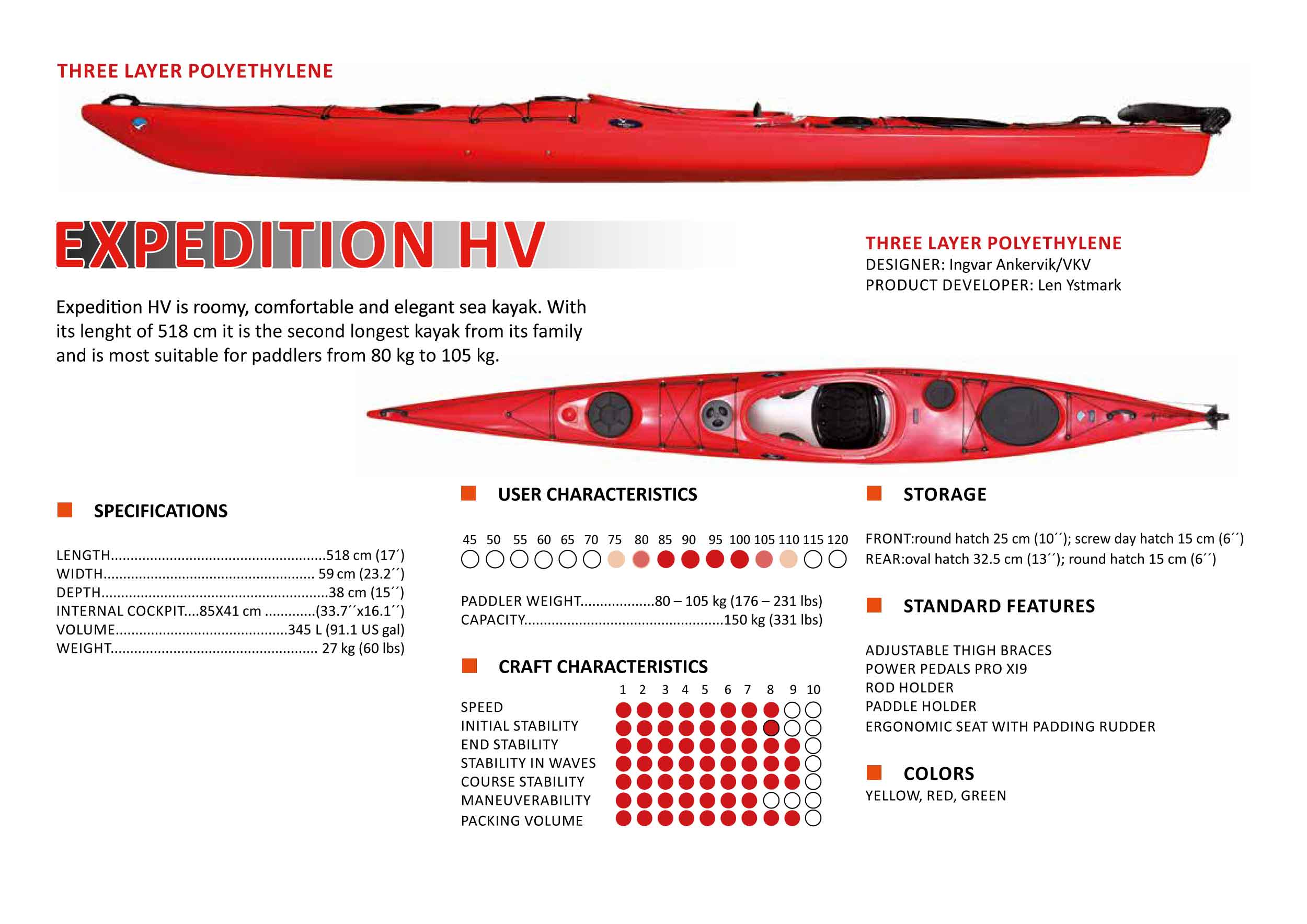 | | |
| --- | --- |
| Lenght | Longer than 5 meters |
| Width | Between 45-60 centimeters |
| Manouvering | With rudder |
| Material | Three Layer Polyethylene |
If you would like to purchase the product with installments, add it to the cart and select Cetelem Online Credit at checkout.
Reviews
There are no reviews for this product.