Description
SeaBird Designs Discovery is the best choice for those who appreciate stable and maneuverable kayaks. It is suitable for use on the sea, lake or river. Its shape and storage compartments make it suitable for expeditions lasting up to a week. The Discovery is lightweight and highly maneuverable, with the ability to add extra equipment to meet individual needs. This sea kayak is precisely what you need to explore the rough, open waters of the sea, the slow-moving rivers and beautiful lakes.
The long waterline of the kayak makes it fast and stable, allowing it to be easily controlled even in wind and waves. It has three dry storage compartments, two larger ones that can hold gear and supplies for a week-long expedition, and a smaller hand-held one for frequently used items (such as food and drink, jackets, gloves, etc.). The smallest storage compartment is made of soft and durable neoprene and can hold items such as mobile phones, GPS devices, sunglasses, etc.
The Discovery is equipped with a rudder and has a wedge-shaped rear section, which makes it unparalleled in terms of directional stability, even without using the rudder.
The kayak has bungee cords at the front and back of the deck to hold water bottles, spare paddles, waistbands, and other items.
Ergonomic handles at both ends of the Discovery make it easy to move on land. Sitting in the kayak is very comfortable, with a wide seat that is easy to get into, padded seat, and adjustable thigh braces. With its innovative backrest adjustment, it is possible to adjust posture while sitting in the kayak. The thigh braces can be adjusted ten centimeters in both directions.
The SeaBird Designs Discovery is the unbeatable leisure kayak on the market!
 
| | |
| --- | --- |
| Material: | 3 layer HDPE  |
| Lenght: | 430 cm |
| Width: | 63 cm |
| High: | 35 cm |
| Cocpit size: | 82×42,5 cm |
| Volume: | 293 liter |
| Weight: | 22 kg |
| Paddler weight: | 55 – 110 kg |
| Capacity: | 140 kg |
| Front hatch: | Round 25 cm (10´´); Daily 15 cm |
| Rear hatch: | Oval 32.5 cm (13´´);  |
| Extras: | Pedal: | Power Pedals PRO XI9 | Ergonomical seat | Rudder | |
| Colors: | Yellow, Red, Green |
| Designer: | Björn Thomasson |
| Developer: | Len Ystmark |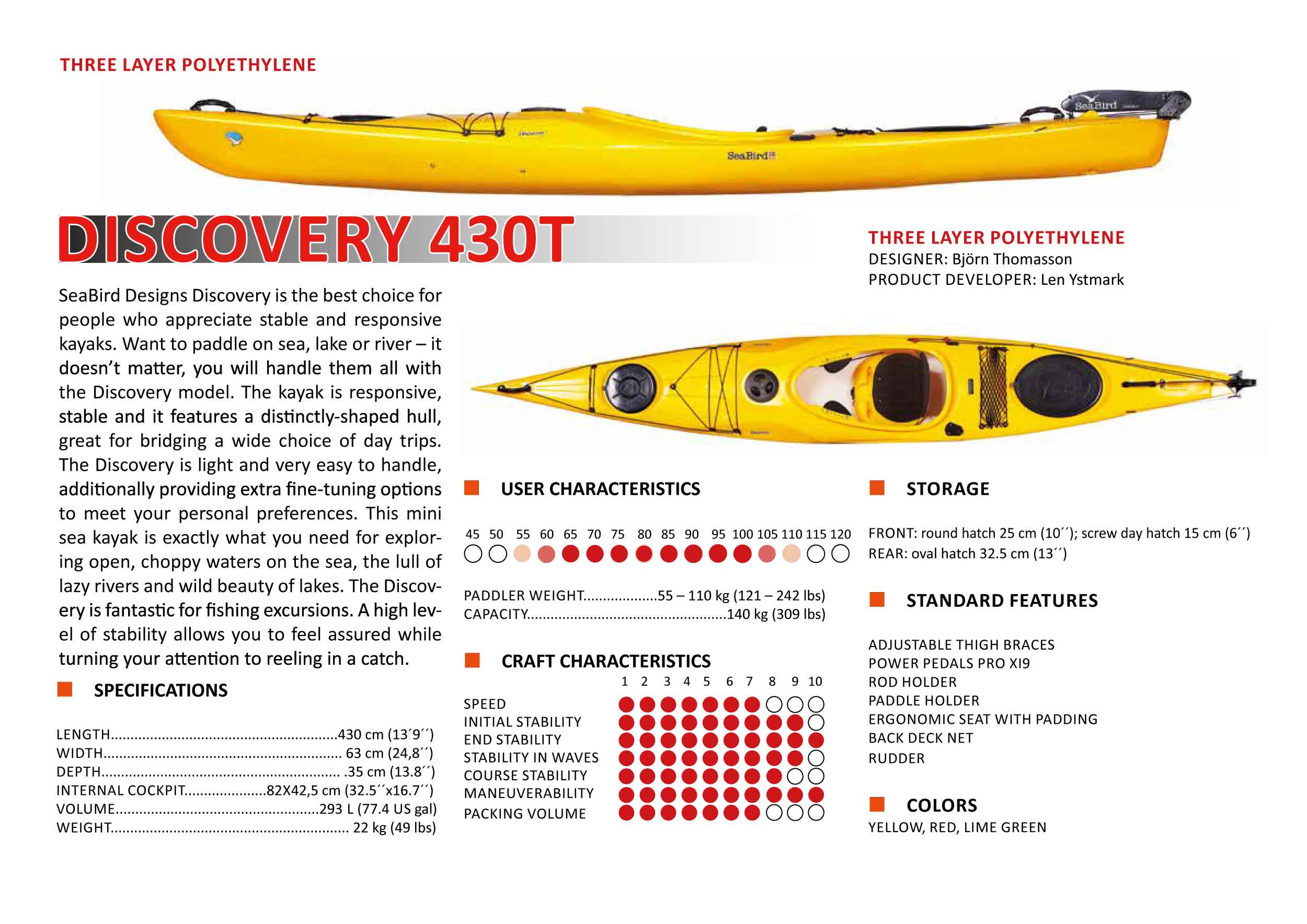 | | |
| --- | --- |
| Lenght | Between 4-5 meters |
| Width | More than 60 centimeters |
| Manouvering | With rudder |
| Material | Three Layer Polyethylene |
If you would like to purchase the product with installments, add it to the cart and select Cetelem Online Credit at checkout.
Reviews
There are no reviews for this product.