Description
ROTO Attivo
A ROTO több mint 70 éves hagyományokkal rendelkező családi vállalkozás. A központ Szlovéniában van. A termelést 7 gyárban szervezik különböző európai országokban. A cég több mint 450 embert foglalkoztat, árbevétele 60 millió euró volt. A ROTO a világ 55 országába exportálja termékeit. A Pavlinjek család által irányított vállalat termékei minőségével világszerte hírnevet szerzett.
A cég fő termelési szegmensei a sport, a mezőgazdaság, az ipar és a kertészet. A műanyag kompozitok és a legújabb gyártási technológiák felhasználásával a ROTO kajakokat, kenukat és nagy teljesítményű motorcsónakokat is gyárt.
Az egyedi fröccsöntő (rotomod) technológiával gyártott ROTO termékek az ipari szektorok széles skáláját szolgálja ki, beleértve az építőipar, az autóipar, a hajózás, a logisztika, és a mezőgazdaság, ahol az ide tartozó gépek kisebb-nagyobb alkatrészei gyártását végzi.
A ROTO azon dolgozik, hogy növelje termékei értékét azok dizájnjának fejlesztésével, az anyagok és a modern gyártási technológiák intelligens használatával, valamint a kiváló minőségű gyártás biztosításával.
Viking
A Viking formavilágát tekintve valahol félúton található a klasszikus "indiánkenu", és a Canadier típusú túrakenu között. A Vikingek orra, és a fara enyhén felhúzott, ami messziről felismerhetővé teszi. A Viking 450 cm hosszú és 3 személynek nyújt kényelmes helyet, így ideális kiscsaládok, vagy baráti társaságok számára. A hajótest hossza miatt könnyen manőverezhető, nem jelent gondot akár a helyben fordulás sem. A Viking kenuk 1, illetve 3 rétegű polietilénből készülnek, ahol a külső réteg a mechanikai hatásoktól védi a hajó szerkezetét, a habosított, és belső réteg pedig a súlyának minimalizálása mellett a megfelelő szerkezeti merevséghez járul hozzá. Az egyrétegű hajók esetében a egy markánsabb vastagabb réteg biztosítja a hajó szerkezetének stabilságát, strapabíróságát. A hajók mindegyike rendelhető polietilén, és fa/hevederes ülésekkel. A Vikinget egyaránt ajánljuk folyókra, tavakra, és nyugodtabb tengeri túrákra.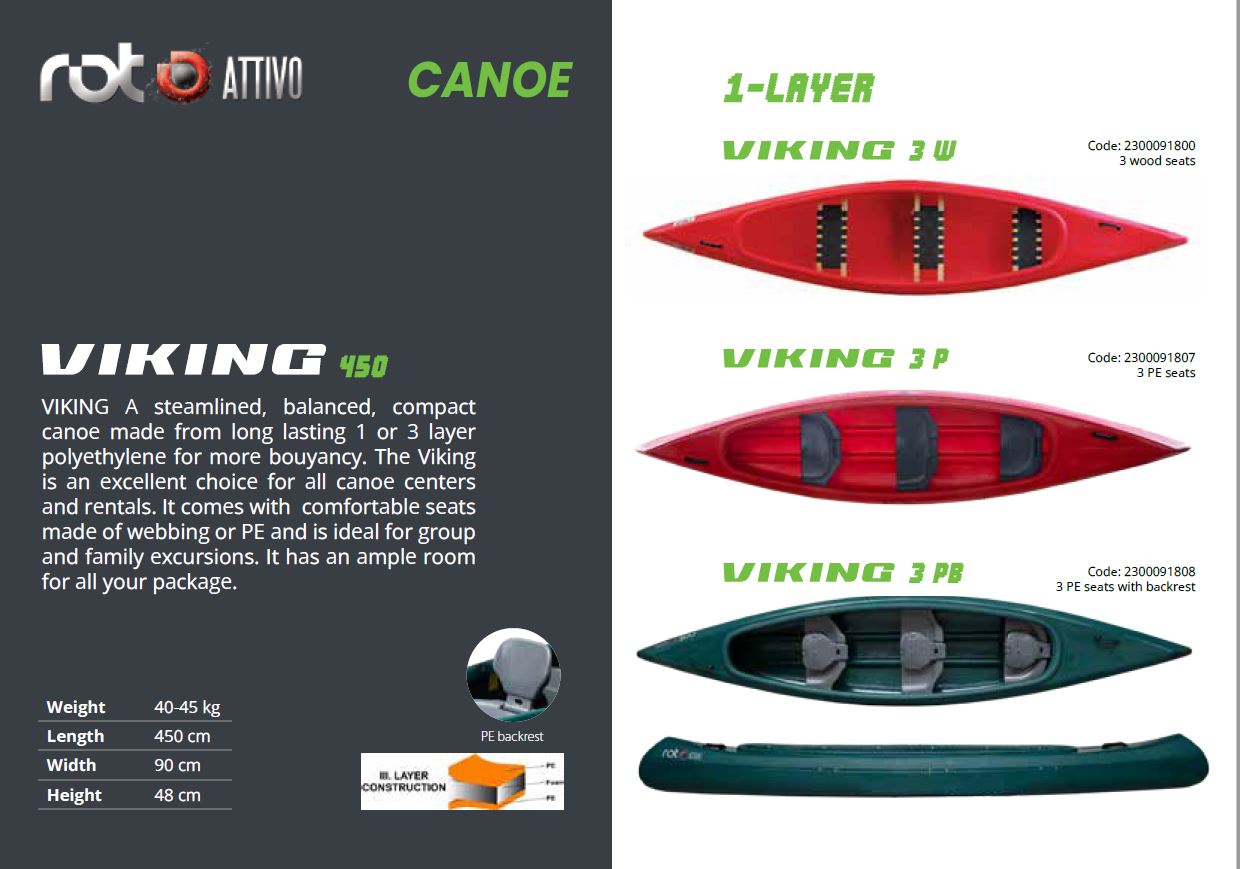 | | |
| --- | --- |
| Lenght | Between 4-5 meters |
| Width | More than 60 centimeters |
| Manouvering | None |
| Material | One Layer Polyethylene |
If you would like to purchase the product with installments, add it to the cart and select Cetelem Online Credit at checkout.
Reviews
There are no reviews for this product.