Description
Roteko
A Krakkótól nem messze honos lengyel Roteko cég több mint tíz éve gyűjt tapasztalatokat a rotomod eljárásként ismert polietilén hajók gyártásában. A Roteko abban különleges, hogy saját maga tervezi termékeit és készíti a termékek gyártásához a szerszámokat, formákat, és gépeket. Üzemükben extrudálják, színezik, keverik, granulálják és porítják az alapanyagokat, majd rotációs formázással és fröccsöntéssel állítják elő a késztermékeket. A Roteko törekvése a gyártás szinte minden folyamatának egy kézben tartása, ezzel a cég kitettségének csökkentése, a gyártási költségek optimalizálása, és kiváló ár-érték arányú termékek előállítása. Kajakokat 2010 óta készítenek, mára leginkább erre szakosodtak. A megfelelően magas színvonal elérése érdekében folytonosan dolgoznak a technológia és a géppark fejlesztésén, illetve a dolgozók képzésén. Mindezek hajtóereje a munkájuk iránti elkötelezettségből eredő elégedettség, és a szándék, hogy teljesítsék vásárlóik kívánságait.
SPRINTER ECOline kettes kajak
Kétszemélyes polietilén kajak, tágas beülővel. Kiválóan alkalmas folyókra és tavakra. Nagyon stabil, fordulékony, jól tartja az egyenes irányt, egyaránt megfelel kezdőknek és haladóknak. Különös figyelmet érdemelnek a lehajtható támlájú komfortos ülések, italtartóval. A két felnőtt ülése közé harmadik, típustól függően opcionálisan, egy kissebb méretű háttámla helyezhető be, háromféle pozícióba, gyereknek. Többfokozatú, jól kiformált lábtartók tesznek lehetővé kellemes testtartást, bármilyen alkatú embernek.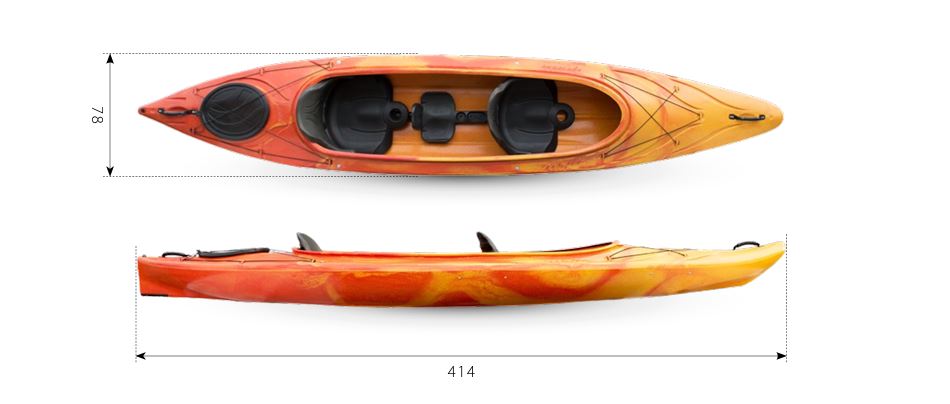 | | |
| --- | --- |
| Lenght | Between 4-5 meters |
| Width | More than 60 centimeters |
| Manouvering | None |
| Material | One Layer Polyethylene |
If you would like to purchase the product with installments, add it to the cart and select Cetelem Online Credit at checkout.
Reviews
There are no reviews for this product.