Description
Roteko
A Krakkótól nem messze honos lengyel Roteko cég több mint tíz éve gyűjt tapasztalatokat a rotomod eljárásként ismert polietilén hajók gyártásában. A Roteko abban különleges, hogy saját maga tervezi termékeit és készíti a termékek gyártásához a szerszámokat, formákat, és gépeket. Üzemükben extrudálják, színezik, keverik, granulálják és porítják az alapanyagokat, majd rotációs formázással és fröccsöntéssel állítják elő a késztermékeket. A Roteko törekvése a gyártás szinte minden folyamatának egy kézben tartása, ezzel a cég kitettségének csökkentése, a gyártási költségek optimalizálása, és kiváló ár-érték arányú termékek előállítása. Kajakokat 2010 óta készítenek, mára leginkább erre szakosodtak. A megfelelően magas színvonal elérése érdekében folytonosan dolgoznak a technológia és a géppark fejlesztésén, illetve a dolgozók képzésén. Mindezek hajtóereje a munkájuk iránti elkötelezettségből eredő elégedettség, és a szándék, hogy teljesítsék vásárlóik kívánságait.
EOLI ECOline kettes kajak
A ROTEKO EOLI nagyszerű kajak többnapos túrákra. Erős érvek szólnak mellette: a masszív konstrukció, a nagy teherbírás, a jó menettulajdonságok és a tágas beülő, ahol két ülés várja a felnőtteket, és egy a gyereket. Nagyfokú stabilitása biztonságossá teszi, kezdők is jól érzik magukat benne. Bevált és gondosan kidolgozott szerkezeti elemeinek többségét maga a ROTEKO állítja elő. Nagyon kényelmes, tartós üléseit italtartó egészíti ki. Alapfelszerelés a harmadik, háttámlás gyerekülés, amelyet az első ülés előtt vagy mögött is el lehet helyezni. Nagy, cserélhető gerinc-élvédő óvja meg horzsolástól, ha a parton vonszolják.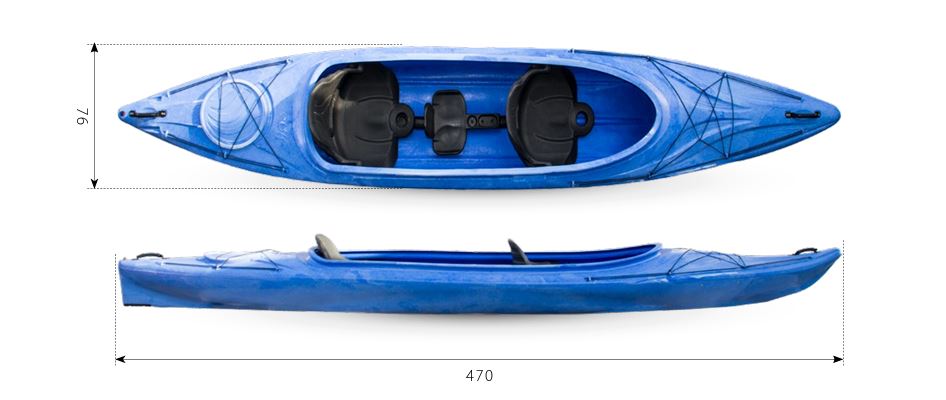 | | |
| --- | --- |
| Lenght | Between 4-5 meters |
| Width | More than 60 centimeters |
| Manouvering | None |
| Material | One Layer Polyethylene |
If you would like to purchase the product with installments, add it to the cart and select Cetelem Online Credit at checkout.
Reviews
There are no reviews for this product.