Description
Nelo Viper 48
A Viper család a Nelo kínálatának egyik legrégebbi és legsikeresebb sorozata. A siker annak köszönhető, hogy a Viper család kimagaslóan széles választékot kínál, Mini Viper után 42-44-46-48-51-55-60 cm szélességgel, így minden fitness sportoló megtalálja a pontosan neki tökéletes hajót. A Viper családra jellemző, hogy a széles méretválasztékán túl különféle konstrukcióban és hihetetlen széles alkatrész/extra választékot kínál.
A hajó
A Viper 48 a nagyobb kihívást jelentő, tiszta fitneszhajó a Viper sorozatból. Klasszikus túramodell térfogatával, 48 cm-es maximális szélességével és 520 cm hosszúságával a 48 minden olyan sportoló hajója, aki kihívásokkal teli fitneszhajót keres.
A 48 a rendkívül széles Viper kínálatnak abszolút közepe. A 48 esetében elérkeztünk az egyértelműen fitnesz hajók kategóriájába, ott is a legkeskenyebb hajóhoz. A hajó szerelékezése tökéletesen azonos a verseny hajókban megszokottakkal, azokkal kompatibilis. A 48 fitnesz hajó stabilitással, viszont közel versenyhajó sebességgel futtatható a vizen.
Testreszabás
Nincs elképzelése a leendő hajó külalakjáról? Semmi probléma! A nelo színsémáin kívül kapcsolatba léphet partnerünkkel, a Paddle Sports Designnal, hogy kiválassza a legjobb, személyes designt, így teljesen egyedi hajót tud magának tervezni.
Szerelvények
A VIPER 48 szerelvényei a konstrukció típusától függően változhatnak.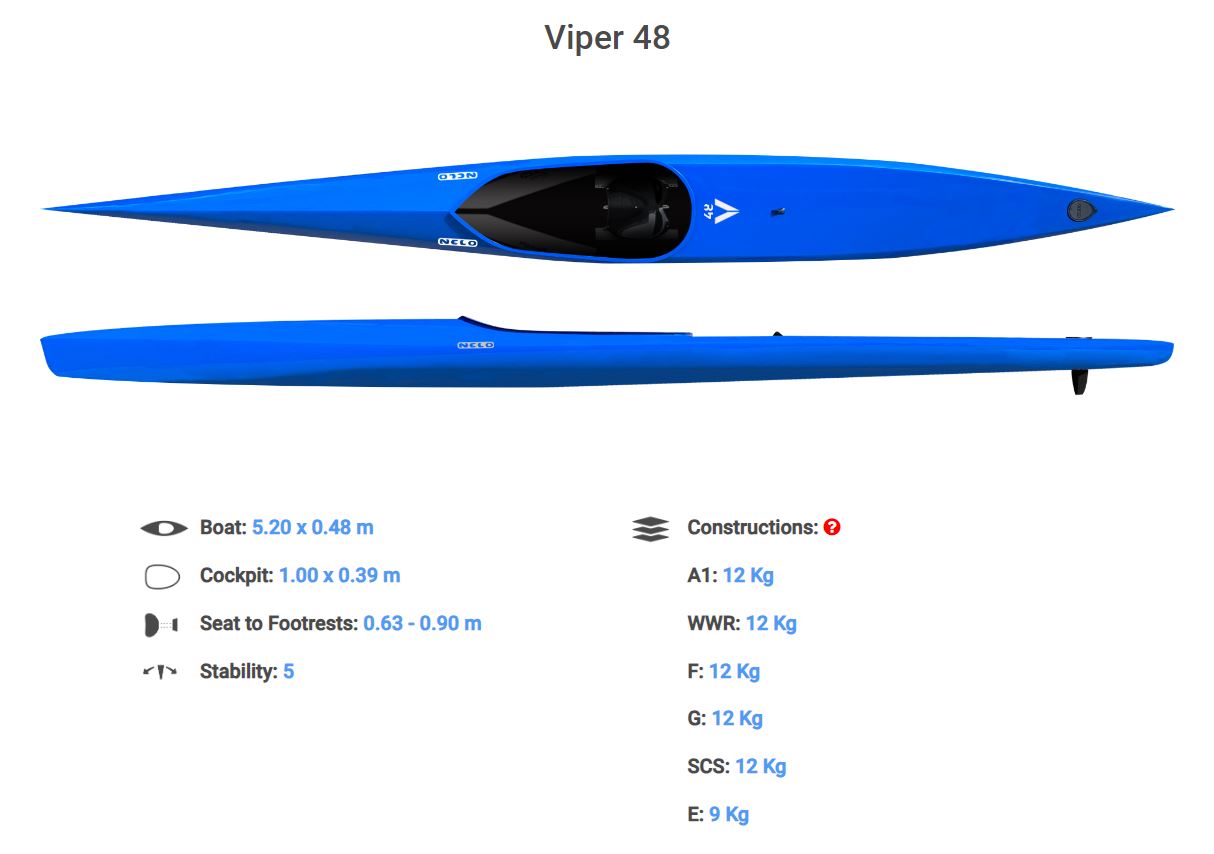 If you would like to purchase the product with installments, add it to the cart and select Cetelem Online Credit at checkout.
Reviews
There are no reviews for this product.