Description
Nelo Viper 46
A Viper család a Nelo kínálatának egyik legrégebbi és legsikeresebb sorozata. A siker annak köszönhető, hogy a Viper család kimagaslóan széles választékot kínál, Mini Viper után 42-44-46-48-51-55-60 cm szélességgel, így minden fitness sportoló megtalálja a pontosan neki tökéletes hajót. A Viper családra jellemző, hogy a széles méretválasztékán túl különféle konstrukcióban és hihetetlen széles alkatrész/extra választékot kínál.
A hajó
A Viper 46 az a Viper, amely a hagyományosabb K1-es versenyformát ötvözi egy fitneszhajóval. A 46 cm-es maximális szélességével és 520 cm-es hosszával a 46 minden olyan sportoló számára megfelelő, aki sokoldalú K1-et vagy nagyobb kihívást jelentő fitneszhajót keres.
A 46 a rendkívül széles Viper kínálatnak harmadik legkeskenyebb modellje. A 46 esetében még inkább beszélhetünk egy szélesebb és stabilabb versenyhajóról, de már a hajó formájában megjelennek a klasszikus Nelo Viper elemek. A hajó szerelékezése tökéletesen azonos a verseny hajókban megszokottakkal, azokkal kompatibilis. A 46 rendkívül gyors és stabil. A 46-ot szeretettel választják masters sportolók, akiknek még fontos a sebesség, de a stabilitás, és az élvezetes fitnesz élmény elöljáró. Sok esetben említik, hogy a 46-ban evezés élménye hasonlít a régebbi szélespontos versenyhajókban tapasztaltakkal.
Testreszabás
Nincs elképzelése a leendő hajó külalakjáról? Semmi probléma! A nelo színsémáin kívül kapcsolatba léphet partnerünkkel, a Paddle Sports Designnal, hogy kiválassza a legjobb, személyes designt, így teljesen egyedi hajót tud magának tervezni.
Szerelvények
A VIPER 46 L szerelvényei a konstrukció típusától függően változhatnak.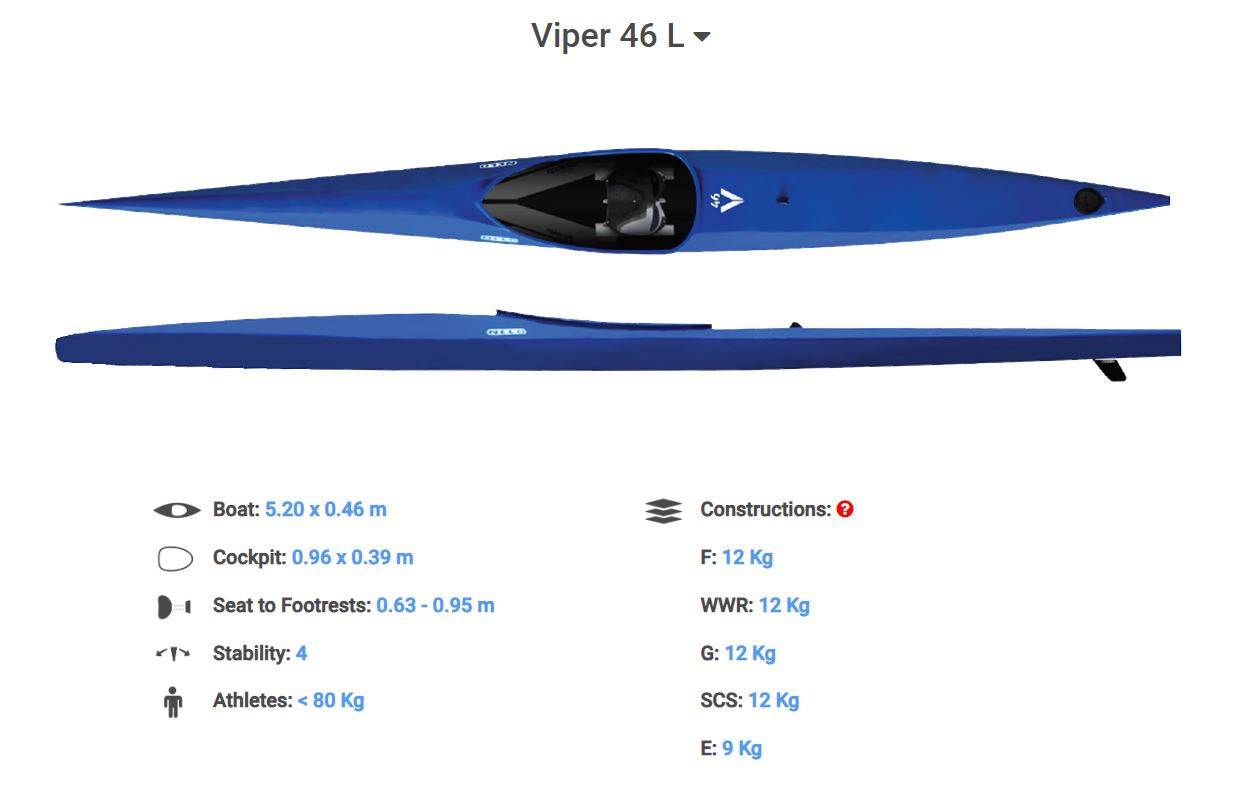 | | |
| --- | --- |
| Lenght | Longer than 5 meters |
| Width | Between 45-60 centimeters |
| Manouvering | With rudder |
| Material | F - racing |
If you would like to purchase the product with installments, add it to the cart and select Cetelem Online Credit at checkout.
Reviews
There are no reviews for this product.