Description
Nelo Viper 44
A Viper család a Nelo kínálatának egyik legrégebbi és legsikeresebb sorozata. A siker annak köszönhető, hogy a Viper család kimagaslóan széles választékot kínál, Mini Viper után 42-44-46-48-51-55-60 cm szélességgel, így minden fitness sportoló megtalálja a pontosan neki tökéletes hajót. A Viper családra jellemző, hogy a széles méretválasztékán túl különféle konstrukcióban és hihetetlen széles alkatrész/extra választékot kínál.
A hajó
A Viper 44 az a Viper, amely mind stabilitásában, mind sebességében a legjobban hasonlít a klasszikus K1 formákra, mint amilyen például a Lancer. A 44 cm-es maximális szélességével és 520 cm-es hosszával a 44 minden olyan sportoló számára megfelelő, aki egy nagyon stabil verseny K1-et keres.
A 44 a rendkívül széles Viper kínálatnak második legkeskenyebb modellje. Korábbi fitnesz modellek közül a Nelo Classic hajó paramétereire hasonlít leginkább, ám annál stabilabb, mivel a Classichoz képest laposabb az alja. A hajó szerelékezése tökéletesen azonos a verseny hajókban megszokottakkal, azokkal kompatibilis. A 44 rendkívül gyors és stabil társ lesz azon kajakosoknak, akik esetében az ezredmásodperceknél fontosabb tényező a magasabb stabilitás, és komfort. A 44-et szeretettel választják masters sportolók, de utánpótlást nevelő egyesületek is a Mini Viper és a verseny K1 közötti átülő hajónak, illetve azoknak, akik a K1-ből már inkább egy stabilabb hajóba ülnének át.
Testreszabás
Nincs elképzelése a leendő hajó külalakjáról? Semmi probléma! A nelo színsémáin kívül kapcsolatba léphet partnerünkkel, a Paddle Sports Designnal, hogy kiválassza a legjobb, személyes designt, így teljesen egyedi hajót tud magának tervezni.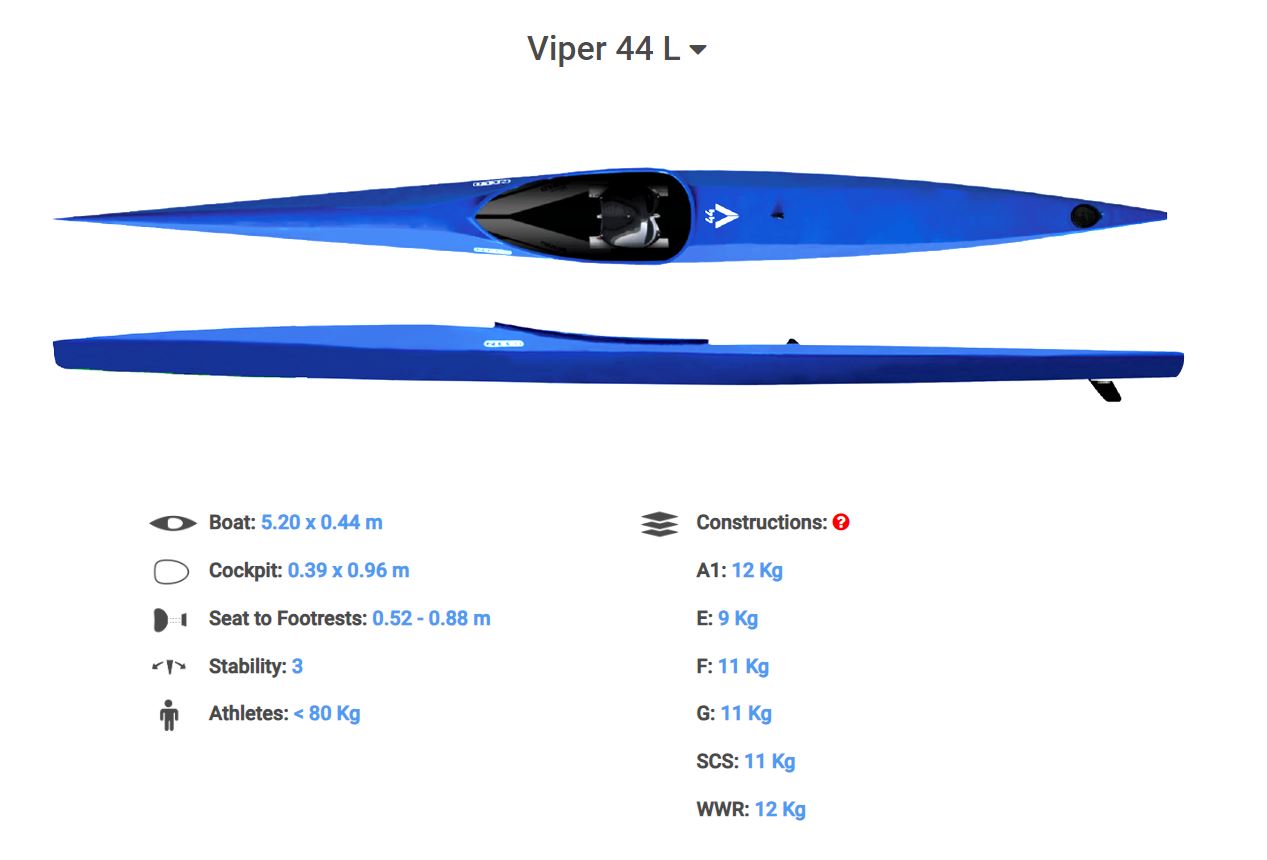 If you would like to purchase the product with installments, add it to the cart and select Cetelem Online Credit at checkout.
Reviews
There are no reviews for this product.