Description
Shafts availability:
- extra stiff, stiff, soft, flexi soft
- in full version include t carbon handle or t wooden handle
- in adjustable clamp version (10 cm adjustment) with t carbon handle
- lock and unlock is possible on the water without any tools, with lever
- all flat water canoe shafts are made with black kevlar layup on top against abrasion
Canoe shaft possibilities

Construction & recommendation of use

Shaft bending
in mm/10kg weight

Full

Clamp

FLEXI SOFT

70°carbon / 30% kevlar
Recommended for kids over 13years

4,28

4,28

SOFT

85°carbon / 15% kevlar = for sprint paddlers over 15 yearswomen over 18 years

3,00

3,00

STIFF

100% carbon = most used for sprint men
Only for the strongest women

2,00

2,00

EXTRA STIFF

100% high carbon modulus = only for the strongest and heaviest menthey preffer maximum stiffness

1,20

1,20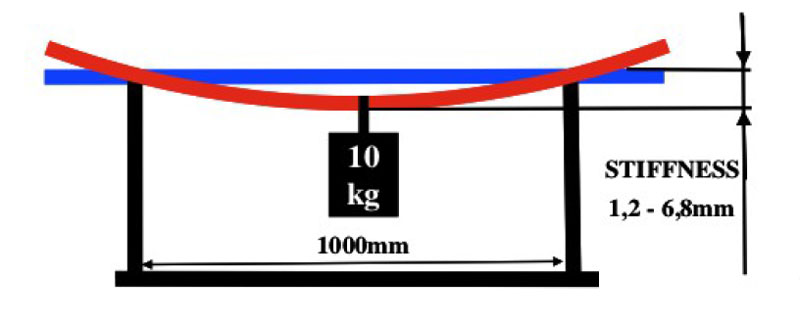 SHAFT BENDING DIAGRAM
Standard
Outside diameter 31 mm
Weight 310 grams including wooden handle
Adjustable CLAMP
Very good for traveling paddlers. Designed for frequent splitting (daily).
Lock and unlock is possible on the water without any tools, with lever.
Angle adjustment LEFT/RIGHT hand control, line marks every 5 °.
LENGTH ADJUSTMENT UP TO 10cm OUTSIDE DIAMETER 31 mm, WEIGHT 390 grams including T-HANDLE.
IMPORTANT!
NEED TO BE REGULARLY CLEANED WITH FRESH WATER AFTER EACH USE, IF PADDLING ON SALT WATER!
Reviews
There are no reviews for this product.